Ji Hyung Song
FIELDWORK, 2022
Work Area: Exhibition Poster, Banner, Etc.
Client: Ji Hyung Song
---
My Lexicon: 12 words are listed in Korean, German, and English. These 12 words are keywords for Ji hyung Song's work, consisting of intermingled words with related features and words that do not match. You can view the text and video corresponding to each word by clicking them.
Questionnaire: Social limbo can be described as 'Socially in a midpoint state' meaning an uncertain or undecided state. Considering the early stages of anthropological fieldwork as a form of "Social Limbo," the research process starts with deciding a place to live and learning how the locals greet others on a day-to-day basis.¹
Interview: In anthropology, interviews are essential in connecting culture with informants for the fieldworkers. Interviews are not isolated events but part of the participatory observation process; they are encounters with each individual, subject to observation in various contexts.² For example, Ji hyung Song, who became a fieldworker, obtained their life and culture through interviews with various informants. The collected life history of the informant and multiple observations were recorded as a video.


¹ ² Refer to Kim Min-jung,
fieldwork method of cultural anthropology and participant observation,
p206

Text from www.fieldworkspiel.com / written by Ji Hyung Song


Applications︎︎︎
Poster (Video Ver.)
---
In this exhibition, 'Survey' is a very important artist's work methodology and subject itself. In addition, the exhibition venue is a 24-hour coin laundry where many unspecified people visit. Judging from all these points, I wanted the poster to visually take the form of a survey and actually print it on the survey. Therefore, except for basic information such as the artist's name and exhibition title, the only graphic on the poster is "a table divided by lines". Over time, the table has eight questions at the core of the exhibition theme. Underneath it, bubbles (extracted through web coding) appear by changing their shapes, reminiscent of the "Tradtional laundry place", which is the background of the representative work.
On the other hand, when we have to write something down quickly, we are forced to use cursive. Just like the title 'FIELD WORK', I used a typeface that seemed to be written with a marker pen.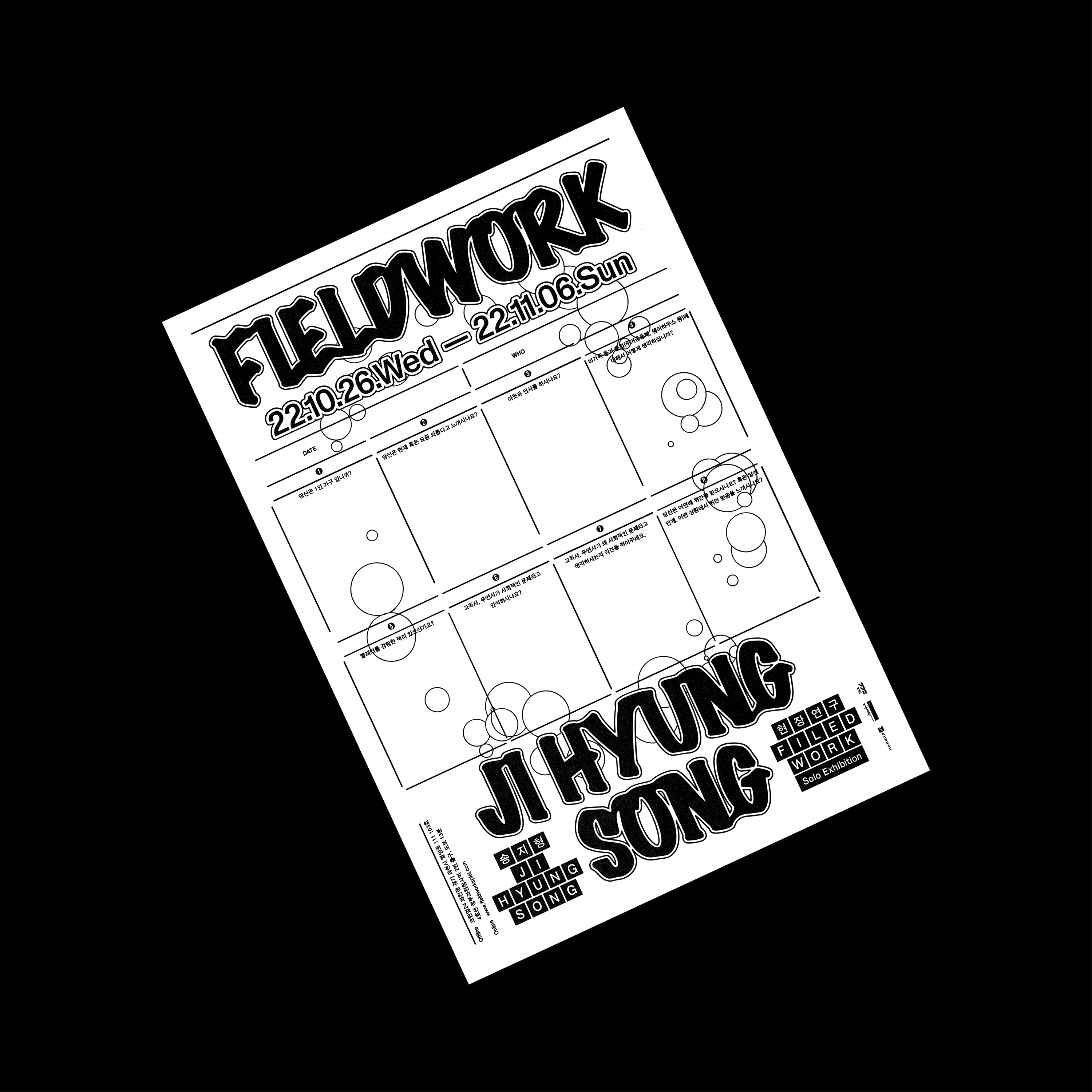 Applications︎︎︎
Printed Poster (Survey), Banner / Dimensions Variable
---
www.fieldworkspiel.com︎︎︎
Work In Progress (Type from the bubble code)
---